Just announced on May 31st, a new calf has been spotted with J pod! The Whale Centre found J pod whales off Tofino on May 30th and photographed a young calf with the typical orange coloration on the white patches. Photos were sent to the Department of Fisheries and Oceans in Canada and the Center for Whale Research that provided the following statement:
"…Researchers at the CWR have confirmed that the calf is a new addition, and based on its coloration and body condition was likely born some time in the last 1 to 3 weeks. The calf was photographed in association with several J pod females, including J31, J46, andJ40. More field observations are needed to confirm the identity of the calf's mother.
Prior to 2019, the Southern Resident killer whale population had no documented successful births since 2016. This calf marks the second birth of 2019, following L124 in January."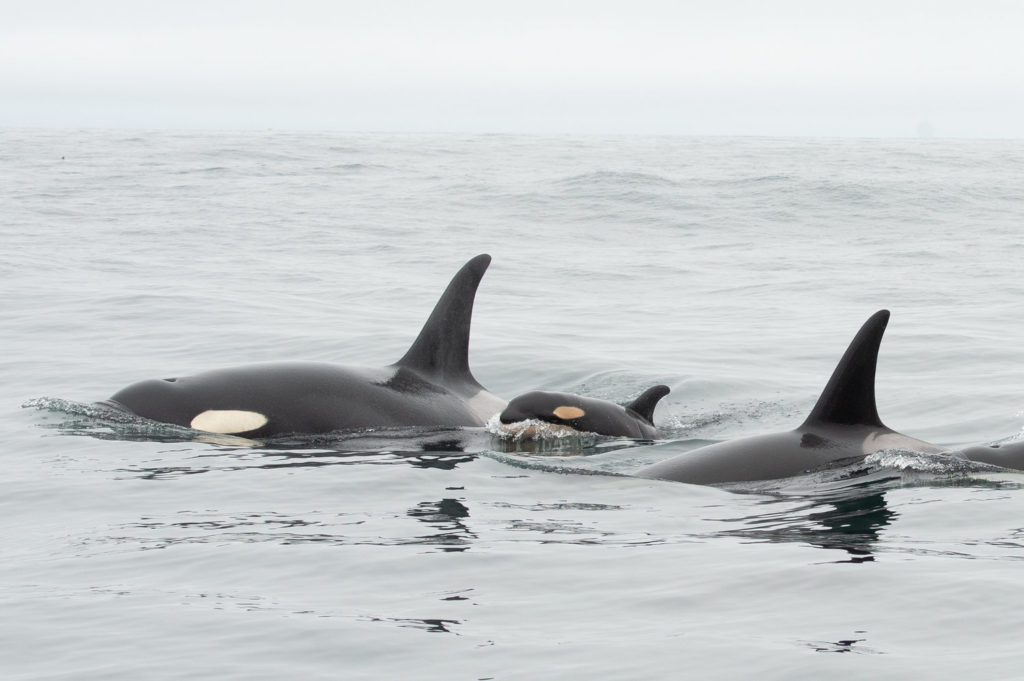 June is Orca Action Month in the Pacific Northwest and the Orca Salmon Alliance is looking forward to all kinds of activities throughout the region. From film screenings to talks and presentations on ferries, beach clean ups, and even Raffi, live in concert! We're starting Orca Action Month the best way we know how, by Helpin' Out Friends of North Creek Forest restore an urban forest in Bothell, Wa.

Next, come party at the Orca Month kickoff event June 2nd at the Olympic Sculpture Park in Seattle. This free, family-friendly festival will feature live music performances by Dana Lyons, DJs including KEXP's Michele Myers, art activities, an Orca Sound station, storytelling, food, drinks, a beer garden, "orca chats," and more! RSVP on Facebook to be entered to win an orca swag bag!

With the theme, Hungry for Change, we hope you will join us this month (and every month) to make the needed changes for the orcas to survive and recover. Find out how you can help everyday reviewing our list of personal actions, and watching for our upcoming action alert, uniting our Pacific Northwest community behind positive change for the Southern Resident orcas.

Here are just a few of the events you can attend to learn more:

June 7th – Dammed to Extinction Film Screening, Seattle
June 9th – Whales in Your Neighborhood, Lincoln Park, Seattle and various OR and WA sites
June 22nd and 23rd – Orca Awareness Weekend at the Seattle Aquarium
June 28th – Kids for Orcas on various ferries in WA
June 30th – Lime Kiln Lighthouse Centennial Celebration

View details and a complete listing of events here.