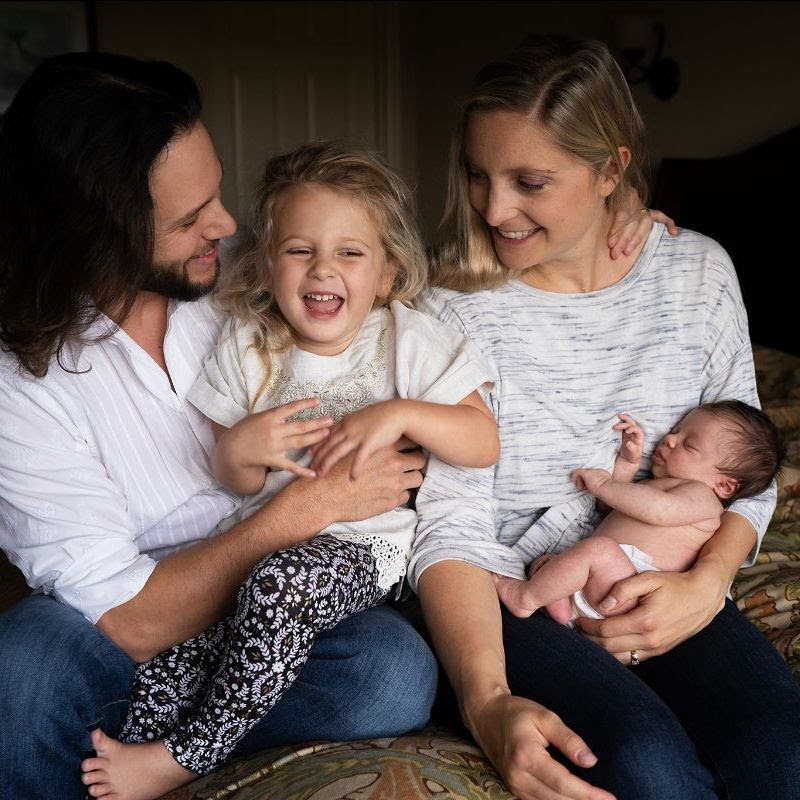 While I'm sure you've read a lot of great annual and end-of-the-decade wrap-ups this week I wanted to send along a letter from my heart expressing my sincerest gratitude and hopes for the year ahead.
This September I welcomed my second daughter earth side and with it came new responsibilities to juggle and balance. I felt an intense sense of urgency to continue doing all that I could for the whales through Whale Scout. I truly believe that the work we do together for salmon that sustain the whales is making a difference. I knew I needed to reach out for additional support to keep Whale Scout going full steam ahead. As volunteer after volunteer offered to take on additional activities and projects, I learned how to depend on my friends, colleagues, and family for support, just as orcas do for their fellow pod mates. Together, the organization grew and we had our most impactful fall ever hosting an entire series of Helpin' Out events planting nearly 300 native plants and shrubs, visiting nearly 200 school kids in classrooms, and much more! To be honest, the collective efforts of these wonderful people produced greater results than I could have accomplished on my own without a new baby. The bigger our pod, the stronger we were.
At home my daughter's own grandmas (and grandpas!) spent more of their time by my side preparing meals, rocking and soothing a tiny little being, and simply offering me their kindness and laughter. Late at night nursing the baby (again) I read studies of orca grandmothers and the critical role they play in raising successful offspring. Other studies showed adult males spending more time foraging than previously thought and I had to chuckle to myself as I considered the males in my own family sometimes spending a little extra time "foraging" at Safeway for critical supplies. I learned how critical each and every person's role is in the family from baby sitters, errand-runners, and toddler entertainers.
This January I'll transition to spend more time working but first I'd like to thank those who kept Whale Scout moving forward while I cared for myself, my family, and enjoyed precious new beginnings with my little girls.
Thank you to:
Tena Seeds, for leading Helpin' Out events at a new, huge site even while transitioning to a new job herself.
Laurie Gogic, for leading Helpin' Out events plus private work parties, a new school visit, organizing two amazing volunteer field trips, and forming new partnerships to restore new sites. She's also a new grandmother!
Joan Poor, for continuing to press for protection of orcas and salmon in our policy work alongside the Orca Salmon Alliance.
Ariel Yseth, for managing our communications and administrative duties. She also completed her 365 mile running challenge and started a new one in 2020. She's already raised more than a dollar per mile this year and you can still donate to her campaign. Follow her journey to combat chronic illness mile by mile on Facebook. Bonus- she posts beautiful selfies and sunset shots wherever she runs around the country!
Jennifer Matte, for sharing our programs with a tennis camp in Redmond that helped raise money for Whale Scout.
Jill Clogston, for coordinating all of our land-based whale watching naturalists and constantly working to improve our programs.
Michelle Penick, for organizing and leading volunteer field trips and making it to just about every single Helpin' Out event we've ever done!
Vanessa Atkins, for developing a curriculum and visiting am the Brighton School along with Thorly James who also co-leads our volunteer book club with Lindsey Mann.
Our restoration support team – Thorly James, Michelle Penick, Delaina Seeds, Tena Seeds, Laurie Gogic, Joan and Brian Poor, Jennifer Matte, and Kara Anderson.
Our board members and all 60 volunteer naturalists for the work they do every day!
Support and partnership from the following entities made this work possible: Lenton PARKS Fund, The Nature Conservancy, WDFW, One Tree Planted and the Promise the Pod campaign, Seattle Aquarium Youth Ocean Advocates, Brighton School, Swing for Fins, City of Mountlake Terrace, Friends of North Creek Forest, Forterra, City of Bothell Parks and Recreation, King County Parks, Mid Sound Fisheries Enhancement Group, and the Puget Sound Conservation Districts.
New this year we're excited to be grant recipients of the King County Wastewater Treatment Division's WaterWorks program. This will help fund continued salmon habitat restoration efforts, outreach, education, and stewardship programs with the public including low-income families in King County.
Lastly, I'd like to thank each and every one of you readers who attended an event, made a donation, or simply followed along with us on Facebook. YOU are a vital part of our extended family pod making each stroke of our flukes a little easier and more powerful.
With gratitude,
Whitney Neugebauer