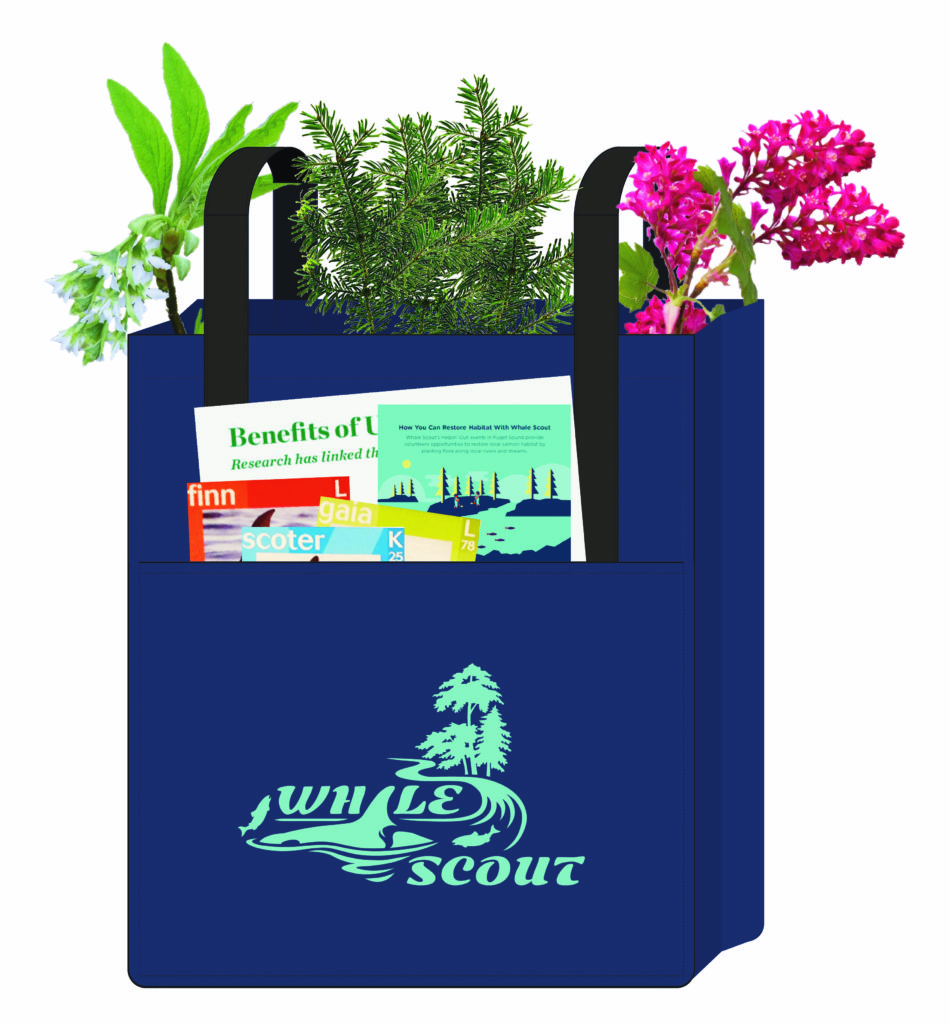 While we stay safe at home, there are still so many ways to help recover endangered orcas. Whale Scout is offering free Orca Conservation Kits safely delivered right to your door celebrating Orca Action Month. Kits include native shrubs to plant in your yard and information and activities connecting these plants to salmon and orcas for the whole family – all in a reusable shopping bag!
Puget Sound watersheds connect all of us to endangered killer whales. The rain that falls in our yards seeps into streams where salmon flow into Puget Sound as orca food. Maintaining the natural processes that keep these waters clean is both important for salmon and orcas. From the tree tops to the tips of the whales's flukes, everything is connected.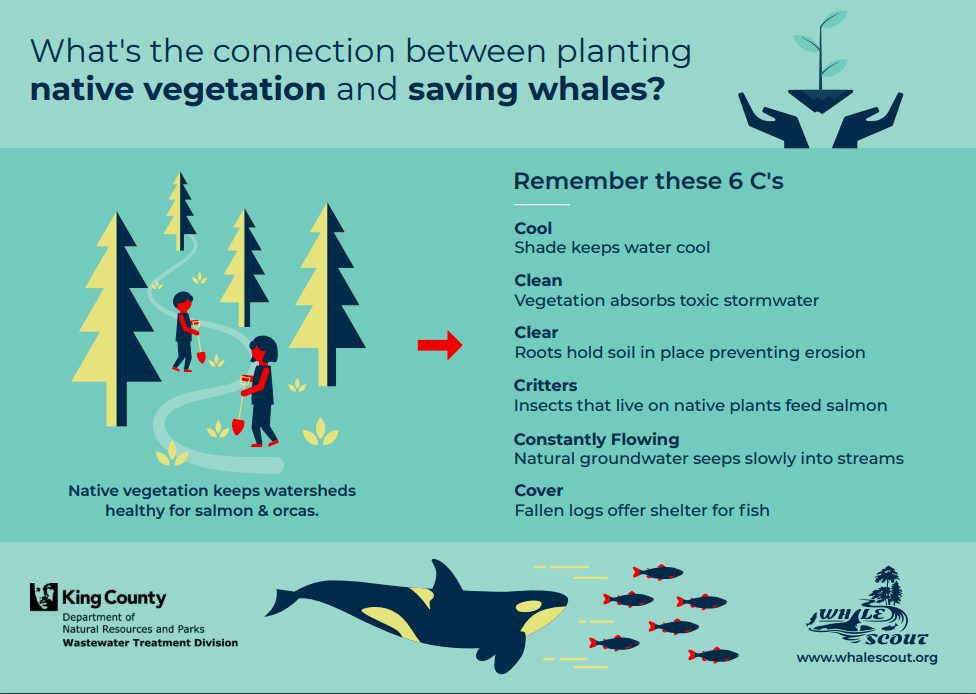 How do I get a kit? Please submit this request form by June 17th. Kits will be delivered between June 22nd and 26th.
What's in the kit? Native plant choices – Indian Plum, Red Flowering Currant, and Douglas Fir. Click the links above to learn more about each plant.
Tucked neatly into the front pocket is a packet tailored to your household with a salmon friendly gardening guide, natural yard care tips, orca stewardship brochures and information including a Whale Scout button. We'll also include activities for kids – screen-free!
Who can get a kit? Anyone living in the urban Puget Sound area within our delivery area and is willing to follow the requests listed below.
1. Please thoughtfully consider which plants will be the right fit for your garden or yard. King County has a helpful Native Plant Guide for Western Washington Yards.
2. Commit to attend at least one in-person salmon habitat restoration event when it is safe to do so. Visit www.PodMatch.org for ideas near you.
3. Send us a photo of your plant once it's home to add to our "virtual forest."
How will kits be delivered? Volunteers will deliver kits to their local neighborhoods wearing a mask: Eligible delivery addresses: Bellevue, Bothell, Brier, Burien, Carnation, Des Moines, Edmonds, Everett, Federal Way, Issaquah, Kenmore, Kent, Kirkland, Lake Forest Park, Lynwood, Mill Creek, Mountlake Terrace, Mukilteo, Olympia, Redmond, Renton, Seattle, Sammamish, SeaTac, Shelton, Shoreline, Tacoma, Tukwila, University Place, West Seattle, Woodinville, and Woodway. Don't see your location? Email us to see if we accidentally missed your neighborhood. whitney@whalescout.org
When will kits be delivered? We anticipate kits will be delivered the week of June 22nd, 2020.
This program is generously supported by The Nature Conservancy in Washington's Urban Tree Canopy Project. To learn more about orcas and Orca Month go to www.orcamonth.com