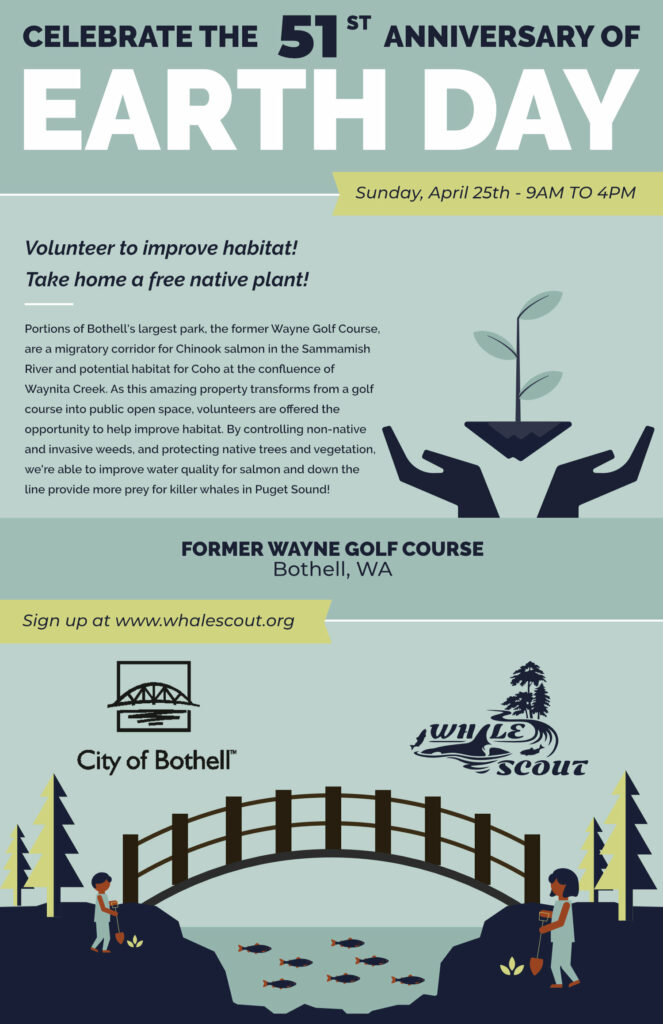 Volunteer to improve habitat! Portions of Bothell's largest park, the former Wayne Golf Course, are a migratory corridor for Chinook salmon in the Sammamish River and potential habitat for Coho at the confluence of Waynita Creek. As this amazing property transforms from a golf course into a public open space, volunteers are offered the opportunity to help improve the habitat. By controlling non-native and invasive weeds, and protecting native trees and vegetation, we're able to improve water quality for salmon and down the line provide more prey for killer whales in Puget Sound!
Join us April 25th. We're offering different shifts to ensure COVID-safe small groups (fewer than ten people total). Consider signing up your household for a fun, educational, family outing.
Due to COVID precautions we ask all volunteers bring their own gloves, food and water, and wear mask. Those under 16 must be accompanied by an adult, under 18 need a signed release form by a parent.
Shifts are 9:00am – 11:00am, 11:30am – 1:30pm, and 2:00 – 4:00pm.
We're asking for firm, committed RSVP's only. Upon confirmation, your spot will be held ensuring the group size does not exceed ten people. Work party windows are short, please arrive promptly and stay the full time unless arranged ahead of time. Thank you for your cooperation!
Registration is required:
9am sign up here
11:30am sign up here
2:00pm sign up here
Whale Scout is a part of a larger effort this Earth Day – Super Earth Day! We've teamed up with other Bothell/Kenmore groups to offer our community many opportunities to dig in. Check out the flyer below and look for events on Facebook.