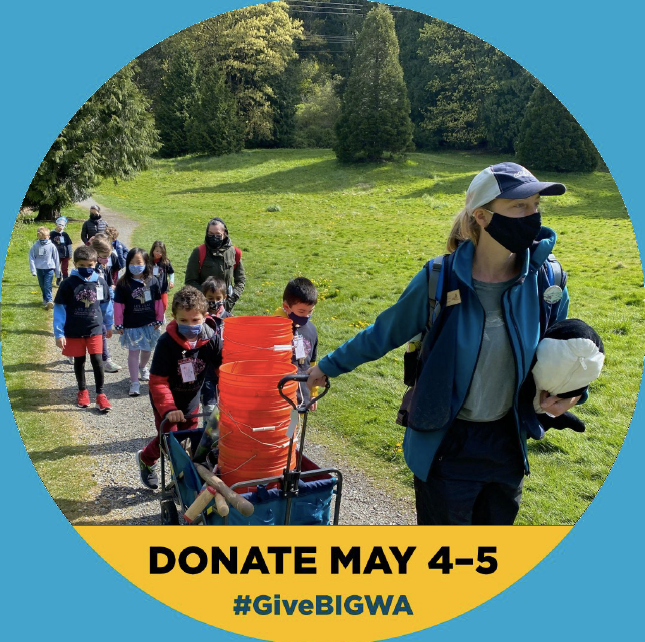 We know you're hearing a lot about 'Give Big'. Here's what makes us different.
Today begins the annual 'Give Big' event in Washington. Your inbox is probably full of requests asking for your hard-earned dollars. We're a little different from the rest. Here are five reasons why we believe our organization is worthy of your support today.

1. Our work is important, direct, and innovative
Since 2013 we've been tackling salmon recovery efforts head-on, getting our hands dirty restoring salmon streams. While it's not always glamorous, as we sweat to pull out weeds or brave the rain to install native plants, seeing Chinook salmon at our restoration sites is rewarding for volunteers and critically important to the whales' bellies. Our team of volunteer naturalists works to help all whale watchers see the importance and participate in this type of direct stewardship.

2. Funds go to direct costs – not overhead
As a volunteer driven organization, your support won't go to large overhead costs but to supplies and materials that help us accomplish our mission of protecting Pacific Northwest whales through land-based conservation experiences.

3. We care not just about the whales, but people, too
Growing resilient communities through inclusive environmental protection work is an integral part of our programs. We're elevating diverse voices through our internship program, reaching out to communities of color, low-income families, school groups, and working towards a world where clean air and water is for everyone.

4. We believe every little bit matters
It's not all about the big things, but the sum of many small efforts together that will save endangered orcas. Every tree, every little kid's effort, every scoop of mulch makes a difference for the waterways in our own communities. It's the rivers and streams in all of our own backyards that make a difference for the salmon the whales depend on. Whether you have a little or a lot to give, it matters.

5. Your dollars are doubled!
Thanks to generous donors, your donation will be matched dollar for dollar! Double the funds, double the impact!

Go ahead, Give Big to Whale Scout if you believe in our work.